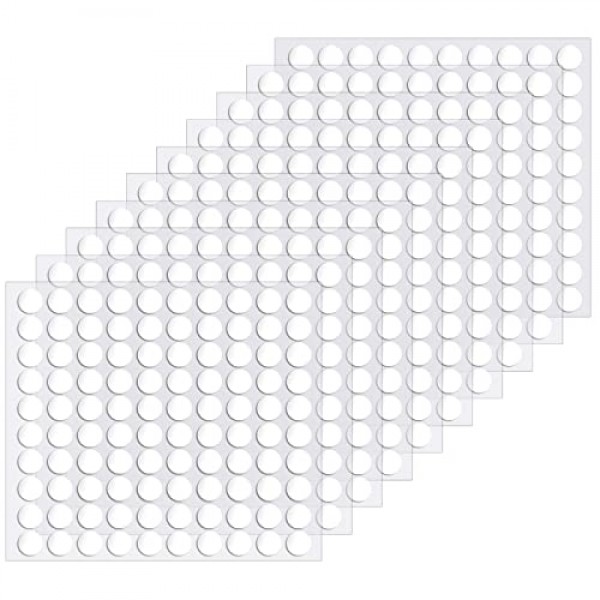 Step 1

Take out one Surard adhesive round putty from a whole sheet easily.

Step 2

Peel off the white back paper from the putty. Please note that the white paper maybe a little bit tricky to peel off, if you feel it quite hard to peel, we suggest that you use a pair of tweezers to help get it off.

Step 3

Paste another object on it and press for a moment, they will stick together firmly.
Read more
Flexible

The double-sided sticky putty is flexible, you can pull it to change its shape.

Stretchable

The clear sticky tack is stretchable. If it's a bigger sticky dot like 20mm or 30mm in diameter, you can paste one end first and then pull the other end to make a long strip, so that you can effectively use the dots, such as pasting photos without wasting. It can be removed by carefully uncovering them after heating them for a few seconds by a hair dryer.

Easy to cut

Cut it with a knife to the size that you exactly need.

Please be patient and careful when cutting the putty.
Read more
Wide Application
A kind of very handy small round sticky dots for different work that needs pasted.
Perfect for pasting balloons, photos, posters at party, ceremony, room homemade decoration.
Also can be used for DIY, crafting ideas, pasted envelopes, paper strips, artwork, kids art work homework, paintings, etc.
More ways to use them are waiting you to discover.
| | | | | |
| --- | --- | --- | --- | --- |
| | 420 Pcs 10mm sticky dots | 1000 Pcs 10mm sticky dots | 150 Pcs 30mm sticky dots | 760 Pcs 20mm sticky dots |
| Total dots quantity | 420 | 1000 | 150 | 760 |
| Sheets quantity | 14 | 10 | 5 | 19 |
| Dots quantity in each sheet | 30 | 10 | 30 | 40 |
| Diameter | 10mm/0.39" | 10mm/0.39" | 30mm/1.18" | 20mm/0.79" |
| Thickness | 1mm/0.04" | 1mm/0.04" | 1mm/0.04" | 1mm/0.04" |
| Stickiness | Double sided sticky | Double sided sticky | Double sided sticky | Double sided sticky |
| Transparency | Clear | Clear | Clear | Clear |
| Material | Qualified soft acrylic | Qualified soft acrylic | Qualified soft acrylic | Qualified soft acrylic |
1000 Double Sided Sticky Dots, Surard Two Sided Clear Adhesive Putty Sticker Tack Small Round Pad Removable Waterproof Circle Tape for Balloon, Home, Offices, Classroom, Wedding Decorations, Crafts